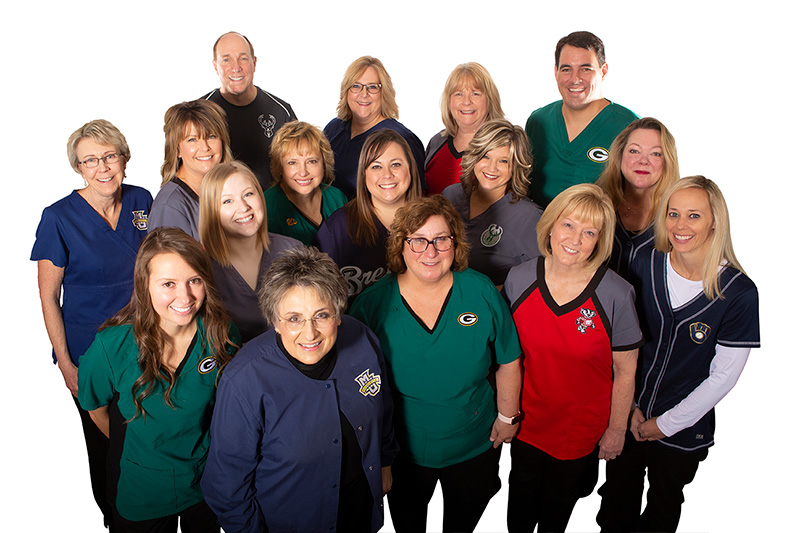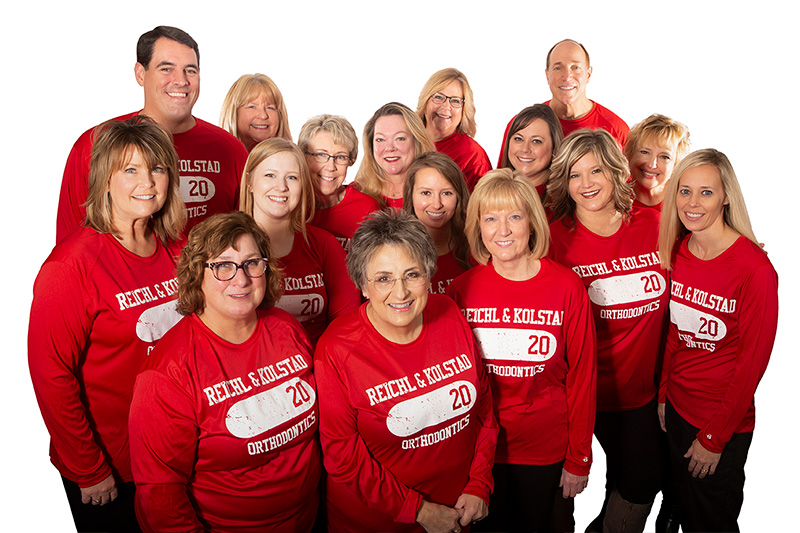 ---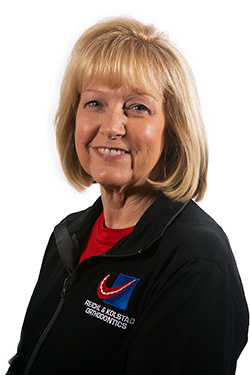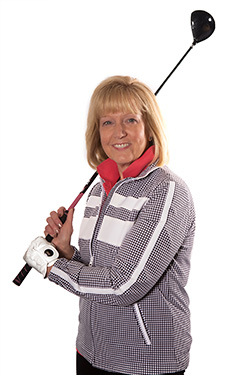 Debbie
Office Coordinator
I wear two hats at Reichl & Kolstad Orthodontics – the first hat is being the office administrator and the second hat is being married to Dr. Reichl. After 30 years of working as a pediatric physical therapist, I "retired" from physical therapy to concentrate more fully on the day to day operations of the office. I truly enjoy my second career as it gives me the opportunity to get to know each of our valued staff members, to interact with our patients and their families and to more fully appreciate the amazing results and increased self-confidence orthodontic treatment provides for children, teens and adults. If I can ever be of assistance to you during your orthodontic journey, please do not hesitate to contact me. I look forward to meeting you and your beautiful smile!
My free time is spent with Dr. Reichl and our family which includes our children, Daniel (his wife, Katie), Andrew, Kaitlyn, Madelyn and our grandson, Caleb. I enjoy walking, golfing, church activities, traveling and cheering for the Green Bay Packers.
---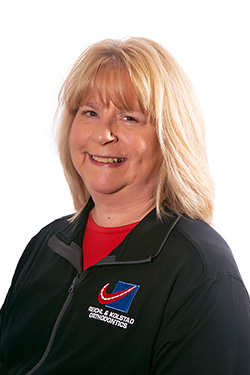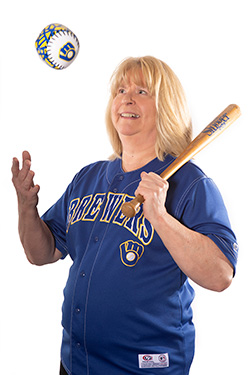 Barb
Financial Coordinator
I have enjoyed working at Reichl Orthodontics and now Reichl & Kolstad Orthodontics since February of 2008. I have been involved in many aspects of orthodontics throughout my career, including assisting, lab work, and front desk duties. For the last 6 years the financial side of the practice has been my focus. I take great satisfaction in working with our families individually to make the economic factor of treatment practical for everyone. Another important aspect of my work is to understand orthodontic insurance and help our patients receive the maximum benefit that is available to them. The team here at Reichl & Kolstad Orthodontics works hard every day and is the most knowledgeable, caring, and fun-loving group of coworkers I have ever had the pleasure to know.
Outside of the office, my husband Phil and I spend as much time as possible with our 3 amazing grandchildren. All baseball season long we have fun cheering on our Milwaukee Brewers.
---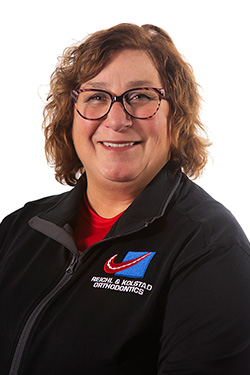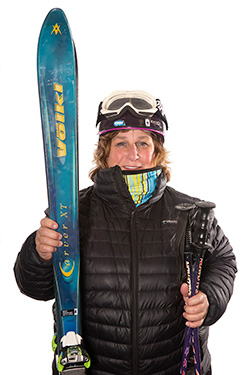 Heidi
Scheduling Coordinator
I am fortunate to have become a member of this outstanding team in August, 2008. My responsibilities include scheduling patients, generating computer reports, daily schedules and anything else needed to keep Reichl & Kolstad Orthodontics running smoothly. I am retired from the United States Air Force, where I worked in the Logistics and Command Post fields. My pride then, as it is now, is doing the very best I can do to ensure patients are treated with respect and care, phones are answered promptly and politely and the schedule runs efficiently for patients and staff. I take personal pride in being able to help out in many areas of our office, whether scheduling or clinical. My co-workers have become my second family and I treasure the support we give one another.
I spend my free time with my son, Michael. Michael is legally blind, and we are involved in many activities with the Blind Outdoor Leisure Development Organization (BOLD). Together, we enjoy downhill and cross country skiing, camping, swimming, gardening and cheering for the Packers, Brewers and Badgers! Michael is the love of my life! Volunteering for those with special needs is also close to my heart.
---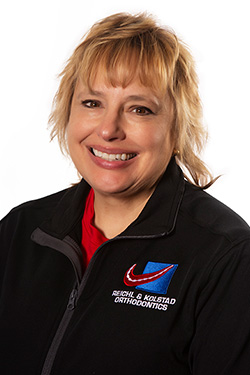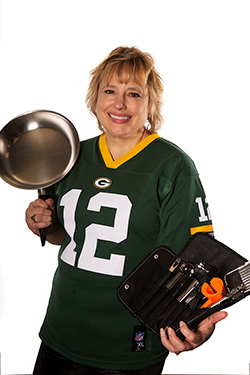 Sharon
Financial & Scheduling Assistant
I am blessed to have joined the elite team of professionals at Reichl & Kolstad Orthodontics. My daughters and I experienced firsthand the warm, caring, compassionate and exceptional treatment extended to us as patients at Reichl & Kolstad Orthodontics; and now, I am in the fortunate position to give back that very same experience to our patients. I enjoy the variety of responsibilities I have and I especially enjoy working with our patients, seeing the excitement on the day they begin their orthodontic treatment, encouraging them during treatment and seeing their beautiful, beaming smile when treatment is finished. I am right at home in our "sports-themed" office, being a huge fan of our hometown sports teams with the Packers as my #1 team. Yes, I do wear my Packers embellished retainers every night which ensures that my touchdown smile is kept in the Reichl & Kolstad Hall of Fame!
In my spare time, I enjoy cooking, creative plating of what I've prepared and photographing the gourmet meals I create for my husband, Marty, daughters, Emilie and Valerie and sometimes even for my dog Finnigan! Scrabble, Bananagrams, Sudoku and jigsaw puzzles are some of my favorite pastimes. I also enjoy being a very active volunteer in my community, spending time outdoors and watching college basketball, the Brewers and of course, the Green Bay Packers.
---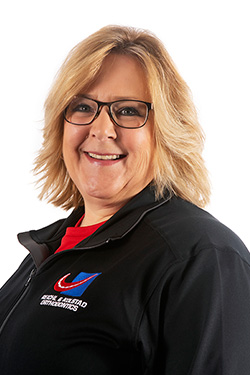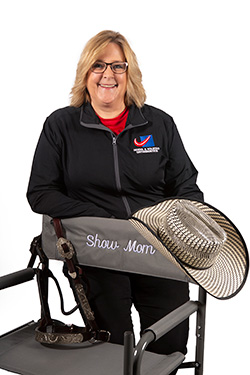 Nancy
Clinical Coordinator & Orthodontic Assistant
I have had the pleasure of working in the orthodontic field since 1982. Although I have been doing this for a long time, I continue to be excited for each new patient to begin their treatment with us, and equally amazed on the day their braces are removed. It is so rewarding to know our team has worked together to create a huge change in each patient's smile and self-confidence. I take great personal pleasure in working with my team members. If given the opportunity to do it all again, I could never imagine doing anything other than what I am doing right now.
My best moments, when outside the office, are spent with my adult children Brittany and Michael. I especially enjoy being a horse show mom for my daughter and her horses, Alex & Desi! I also enjoy gardening, both flowers and vegetables.
---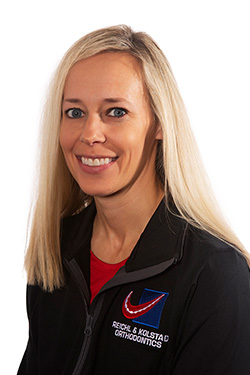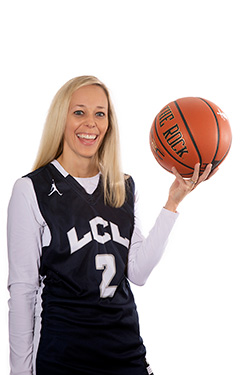 Denise
Orthodontic Assistant
I have been employed as an orthodontic assistant since 2017 and I have truly enjoyed learning more about orthodontics from Dr. Reichl, Dr. Kolstad and the extremely talented and well-trained staff here at Reichl & Kolstad Orthodontics. My favorite part of being an orthodontic assistant is talking to the patients, getting to know them and educating them about their orthodontic treatment. Our remarkable staff have been a joy to work beside. I look forward to meeting each one of your smiles.
I am married to my husband Ben and am blessed with three children: Obadiah, Eden and Magdala. While not at work, you can catch me chasing our kids around to various activities and volunteering at our church and school. I enjoy sports, especially basketball, decorating cakes and getting together with our large extended family.
---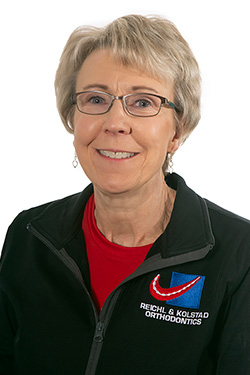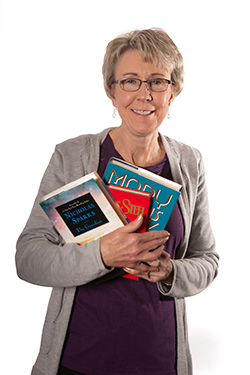 Nancy
Orthodontic Assistant
I have worked in the orthodontic field since 1980 and have happily been a part of this spectacular team since 2004. I have experience as a clinical chairside assistant and extensive knowledge in the laboratory portion of orthodontics. I truly enjoy working with our patients and being able to see their smiles transform right before my eyes. Working with Dr. Reichl, Dr. Kolstad, and our wonderful staff is an added benefit beyond measure!
I am proud to be married to my husband Don. We both enjoy spending time with our son, Jonathan, daughter, Nikki, and her husband, Bryan. Other than spending time with my family, I love reading, water exercising, and flower gardening.
---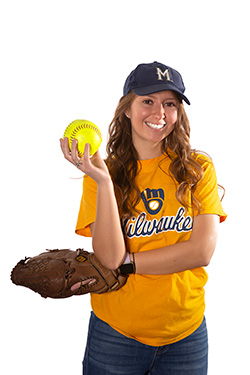 Valerie, MPH
Orthodontic Assistant
I began working part-time at Reichl & Kolstad Orthodontics in 2013, as a high school sterilization assistant in conjunction with my high school's co-op program. I fell in love with helping out wherever I was needed in the office in order to make the appointment a positive one for the patient and to make the day run smoothly for the staff. Over time, Dr. Reichl, Dr. Kolstad and their staff have trained me to work directly with patients and I enjoy every minute of it. Growing up I was always intrigued by and had an interest in the dental field. Working at Reichl & Kolstad Orthodontics has been a great opportunity for me. After graduating from Waukesha West High School in 2014, I attended UW-Whitewater and continued to work here on days I did not have class and during my school breaks. I earned my bachelor's degree in biology from UW-Whitewater in 2018, and then I began working fulltime as an orthodontic assistant. In 2021, I earned my master's degree in public health with a dental emphasis online through A.T. Still University.
Outside the office, I am a Lever Lead for Oral Health Progress and Equity Network (OPEN). OPEN works to improve oral health challenges so that everyone can have an equitable chance to thrive. I am working with members all over the United States to develop and implement ways to amplify consumer voices, advance oral health policy, integrate dental and medical, emphasize prevention, and bring care to the people. In my free time, I enjoy being active, playing softball, spending time with my boyfriend Peter, family, and friends, traveling and being outside. I look forward to meeting you at the office!
---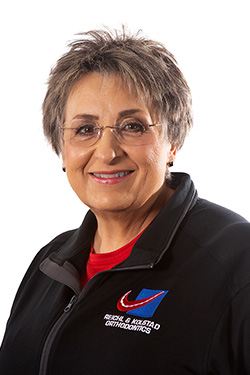 Susie
Treatment Coordinator
As a Treatment Coordinator for Reichl & Kolstad Orthodontics, I have the opportunity to educate children, teens and adults who are considering enhancing their smile about the fascinating world of orthodontics. Understanding your treatment and the reasons for it, validates it's profound benefits and the lifetime positive effects it brings to you. I am proud to be working alongside some of the most gifted, knowledgeable, enthusiastic and caring people in the orthodontic field. My co-workers and I are employed by the leading orthodontic specialists who are passionate about transforming smiles of children, teenagers and adults. Collectively, we guarantee you the smile of your dreams and an amazing experience with customer service second to none.
My personal time is spent with my family and friends, "Miss Kitty" - my kitten and my adorable grandson, Gavin and another little guy due in May. I also enjoy writing, painting, artwork or just kicking back and admiring the birds, butterflies, and everything else for which I need to give thanks. I look forward to meeting all of you!
---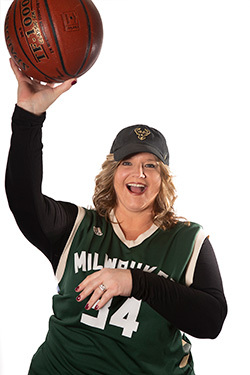 Carrie
Treatment Coordinator & Orthodontic Assistant
My background in orthodontics began in 1995, and I eventually received my Certificate in Orthodontic Assisting in 1997. I welcome the challenge of making sure the day's schedule runs on time and keeping our patients informed about their orthodontic treatment. In addition to my clinical responsibilities, I also maintain and order most of the clinical and office supplies used on a daily basis. The best part of my job is having fun with everyone, including those I work with and each patient I see for an appointment. Helping to make sure everyone's day is a positive one is my personal pleasure.
Outside of the office, I treasure times spent with my husband Troy, our children Branyan and Payton, my adult son, Tyler and our two beagles. Branyan and Payton keep me particularly busy as Branyan, born with Down syndrome, is very involved with Special Olympics, and Payton plays on the Stiks softball traveling team and the Waukesha West basketball program.
---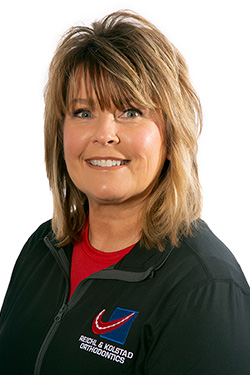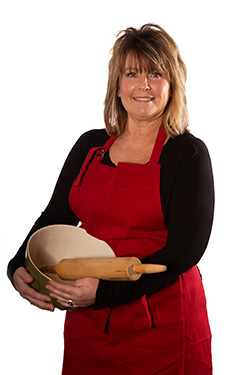 Jackie
Treatment Coordinator & Orthodontic Assistant
I've worked in the dental field since August of 2000, when I graduated from the Department of Defense (DoD) Dental Assistant Program. I completed my DoD internship at Kelly Air Force Base, San Antonio, Texas, where I worked as a dental and oral surgery assistant and received my State of Texas radiology certificate. I've worked as an orthodontic assistant since moving back to Wisconsin in August of 2001. I joined this practice in 2002. As an orthodontic assistant, I want to ensure that each and every patient fully understands their treatment process and the final objective. I realize orthodontics can be a stressful event, so I strive to make my patients as relaxed, comfortable and as informed as possible. Performing all procedures to the best of my ability is my personal goal.
I like to travel, garden, bake, spend time on our boat in the summer and shop in my free time. I also enjoy spending quality time with my husband, Bob, and our three sons, their families and especially my three granddaughters.
---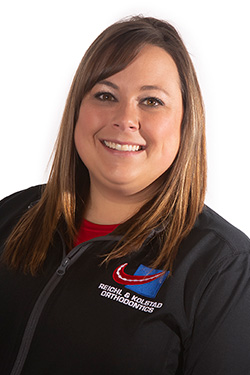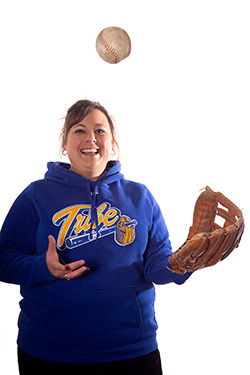 Trisha
Treatment Coordinator & Orthodontic Assistant
I've enjoyed being an orthodontic assistant with Reichl Orthodontics and now, Reichl & Kolstad Orthodontics since 2005. I became interested in orthodontics through my Aunt Nancy, who is a clinical coordinator in our office. Interacting with our patients and witnessing the awesome transformation of their smiles gives me great pleasure and satisfaction each day. It is a joy to get to know each patient personally as they become a part of our orthodontic family!
When I am not working, I enjoy spending time with my husband, Matt, and our sons, Colton and Weston. I enjoy watching both of my boys play baseball during the summer months and taking family trips up north to fish and four wheel.
---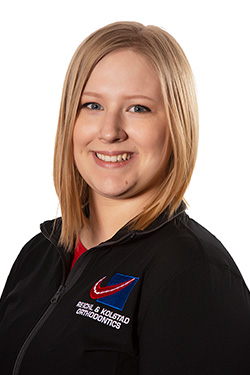 Nicole
Lab Coordinator
As one of the newest members of the team, I began working in the laboratory in 2018, alongside our former Lab Technician, Sue. Whether I'm fabricating retainers, taking dental photography or digitally scanning your teeth with our iTero 3D scanner, I can't wait to see you and your smile in our office!
In my free time I play the role of cat lady! I love to play with and cuddle my three cats and play video games with friends. I also enjoy cooking and baking, though you won't see me on Master Chef any time soon!
---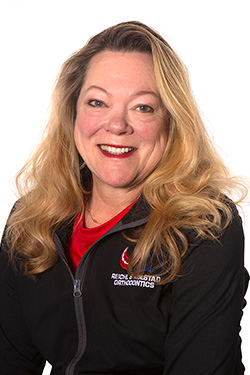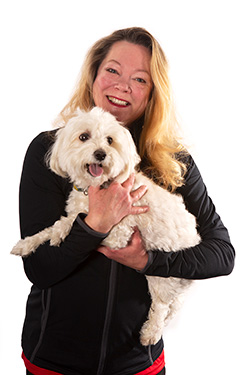 Peggy
Lab Technician & Orthodontic Assistant
My experiences in the dental field since 1982, have allowed me to proudly work as an orthodontic assistant and as a laboratory technician here at Reichl & Kolstad Orthodontics. Being an orthodontic assistant allows me to work directly with patients of all ages; adults whose lives are truly enhanced with a great smile and children and teens whose confidence and self-esteem are positively changed because of orthodontics. I work hard to make each patient feel at home and comfortable when I see them for their appointment. As a laboratory technician, I fabricate the functional appliances and retainers for our patients, ensuring they meet the highest of standards. Being part of a caring team in a fun and relaxed atmosphere makes coming to work each day a joy---it just doesn't get much better than that!
When not at work, I enjoy spending time with my children, grandchildren and my adorable dog, Rascal!
---
Sterilization Assistants
Our sterilization assistants make up a very important part of the Reichl & Kolstad Orthodontic team. These assistants sterilize the instruments and equipment used by the doctors and assistants throughout the day. They also clean the operatory area after each patient. In addition to sterilizing, they help with clerical duties, special projects and any other task that may pop up during our busy days! The sterilization assistants are typically junior or senior high school students enrolled in their high school's co-op program which means they leave school the last hour of the school day to go to their job site. Reichl & Kolstad Orthodontics has enjoyed working with the high school co-op programs for many years and we thoroughly enjoy the students working with us.